Be quick to book the tour that's best for you! Email tgatastingtours@xtra.co.nz or call Lyn or Paul on NZ 027 5224607 or NZ 07 5441383.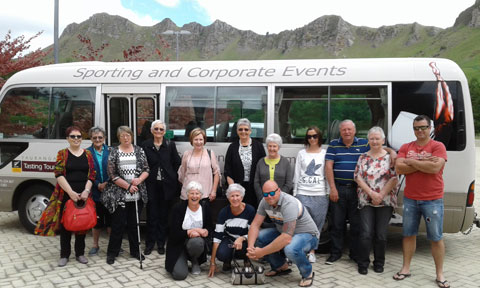 Wine Tours
There's something really special about visiting the terroir where grapes are grown & hearing the passion in the wine-maker's voice as he explains the special characteristics of his wines.
NZ wines are stunning and it's well-worth travelling to experience & savour them. Come on one of our regional winery tours or choose the destination yourself for your group & we'll suggest venues for your consideration. We guarantee you'll have a great time! A full itinerary is available on request for all of our winery tours. We prefer to take a maximum of 14 clients, as we find that larger groups prevent .
people from feeling involved and having a truly worthwhile, personal experiemce. Also, some tasting rooms have difficulty with accommodating large groups.
29 SEPTEMBER -1 OCTOBER 2023. KUMEU/MATAKANA WINERY TOUR
Limited seats available now on this tour, so be quick to reserve! On the tour we plan to visit some old favourites to catch up with their current offering & visit some wineries we haven't toured to with our groups before. Some have not been available for tastings before.
As usual, it will be a chance to treat & eductae your palate & enjoy convivial company at the same time!
We will visit Kumeu River, The Hunting Lodge, Westbrook,Matakana Estate, Brick Bay, Yakutin Family Wines, October 30 & Sculptureum.
Details at: https://www.smore.com/n5638-winery-tour-to-kumeu-matakana
A REVIEW
One of our regular clients, Geoff Bissmire, gives an insight into the types of winery tours we perform:
"For anyone who has an interest in wines, history or just convivial companionship, I would happily recommend joining one of Lyn and Paul Marston's wine tours. By travelling as a group you attract knowledgeable winery staff who are passionate about the history and winemaking philosophies they bring to their craft.
Take for instance Phillip at Clearview Estate at Te Awanga, right on the coast in Hawkes Bay. Travelling from England, equipped with wine qualifications, and eager to pass on his knowledge, we were tasting many more wines than our tasting line-up included ,because the party were keen to extend their palate tastes and food matching skills. We were given a generous sample of Black Reef Blush which the winemakers had hand crafted from rare Chambourcin grapes into an intense light summer aromatic wine. It can be enjoyed on its own, or matched with a wide range of food including duck, or seared scallops. Yum!
But the talk of this wine went further. We were invited to taste the wine and experience the fresh fruity flavours in our mouth, then given a table grape to eat, and another sip of wine. How was the mouth now.... it had lost all the fresh fruitiness from our mouth. Now put a pinch of salt on the tongue and have another sip...what has happened now....The fruitiness has returned. This exercise taught us that if we wished to enjoy the flavours of the food and the unique aromas and flavours that the wine expresses, it is important to taste both before adding salt indiscriminately, as it may enhance the food but will compromise the winemakers work in crafting the wine.
The moral of this story is that many of us left with cartons full of Clearview's wines;all because we were entertained, treated to some more wine knowledge, sampled some stunning wines, and taken on a journey. This is a treat you would probably not have experienced, had you not been in the company of like-minded people.
back to top