Be quick to book the tour that's best for you! Email tgatastingtours@xtra.co.nz or call Lyn or Paul on NZ 027 5224607 or NZ 07 5441383.
LOCAL TASTING TOUR
The Local Tour commences by visiting a boutique craft brewery, where the process of producing the natural beer with no preservatives or additives is explained & a range of beer is sampled. (If you're not a beer drinker, you can choose samples of cider or beer.)
We then have a light lunch at one of Taurana's top restaurants, The White House, Te Puna.
We travel North through scenic countryside for a presentation & tasting at the Wine Portfolio, now home to the prestigious, medal-winning wines of Leveret (formerly Morton) Estate & Mills Reef Winery. (The former Mills Reef Winery no longer exists.) This will be an opportunity to sample excellent NZ wines, and to ask questions about NZ wine-styles & terroir.
The tour returns to Tauranga for dessert & a cocktail at one of Tauranga's most popular restaurants, Salinity Restaurant & Bar, overlooking our beautiful harbour & marina.
We then return you to ship-side (or to local accommodation) via what we claim is the best beach in the Southern Hemisphere.
Total duration approximately 6 1/2 hours
A minimum of 2 people must be booked.
(This tour is only available Tuesday-Sunday, because of venue closure.

COST: $180.00pp. (Transport, tastings, lunch, dessert. N.B. Additional beverages are at the client's cost)
GOURMET GALLIVANTS
We're all so lucky to have a plethora of tasty, exciting fare right on our doorstep.
Tauranga Tasting Tours & Charters has designed several tours, close to home, to excite the gourmet & introduce a multiplicity of wonderful local tastes about which many don't know.
The tours take a maximum of 12 pax, and private groups of 10+ can book any of the tours for a date that suits them ( depending on venue availability).
Gift vouchers are available for different amounts for any of Tauranga Tasting Tours' outings; A great "thank you", birthday or Christmas gift!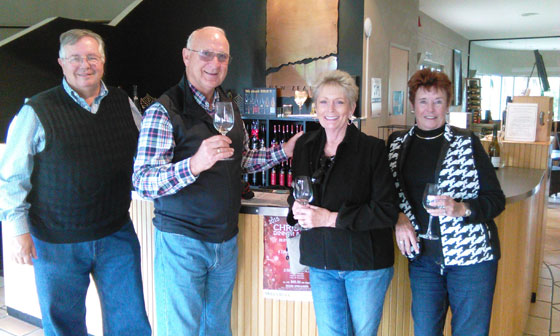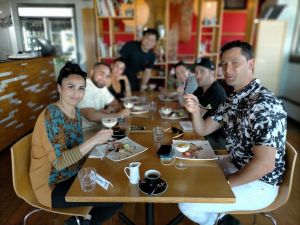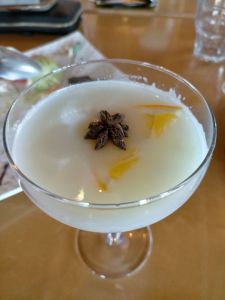 GOURMET GALLIVANTS TAURANGA/MOUNT MAUNGANUI TOUR
Our Tauranga/Mt Maunganui tour visits Pepper & Me, Hemp Farm, Elspeth Artisan Bakery, O'Cider, gives you a talk about & lunch incorporating edible flowers & a tasting of things you have never tasted before at Vetro
The tour takes a maximum of 12 pax.Private groups of 10+ can book the tour for a date that suits them ( depending on venue availability).\
COST PER PERSON FOR PICKUPS AT A SINGLE ADDRESS :1 person - $110.00p.; 2 people - $105.00pp.; 3 or more - $100.00pp.
Details can be seen at:
GOURMET GALLIVANTS KATIKATI/WAIHI BEACH TOUR
A chance to visit quality food/ beverage producers on our door-step & to buy that "special" Christmas present. Come with us to Harbourside Macadamias, The Wine Portfolio, Mt Eliza Cheese, Flat White Restaurant, Chez Moi Chocolaterie.
Only 12 clients per tour. Gift vouchers available.
COST (Per person for pick-ups at a single address): 1 person - $115.00pp.; 2 people - $110.00pp.; 3 or more people - $100.00pp.
Details at: https://www.smore.com/n68ua-gourmet-gallivants
back to top