CELEBRATIONS FOR FRIENDS & FAMILY
Let us supply transport and arrange venues for your family celebration your Hens' Party your business Social Club outing.
It's always enjoyable to celebrate together as a group in a relaxed & convivial atmosphere. We can ensure that your outing is tailored to your specific requirements relating to venue time constraints and budget.
Transport is door-to-door.
Sunday Lunch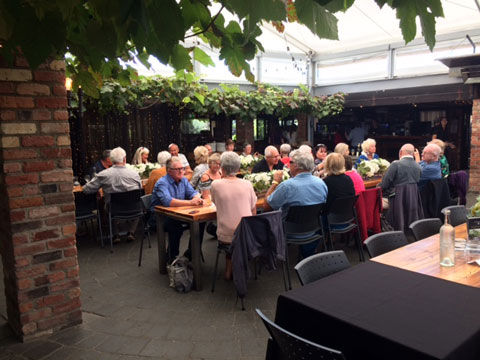 Come on our circuit of monthly Sunday Lunches to a range of venues or book a date that you require for a special occasion.
MAY 9 (MOTHERS' DAY) SUNDAY BRUNCH PATAKA KAI.TE PUIA ROTORUA
Don't you get utterly bored with having the same restaurant experience every time you go out? Lovely food, but the same type of cuisine & tastes, no lightning moment of, "Wow I loved that, but what was it?" And the same decor, slightly changed from the previous umpteen venues you have frequented. For Mothers' Day we'll be going to the only place in the world where you can dine while overlooking an erupting geyser. Treat yourself &/or your mother to an amazing, memorable day at Pataka Kai, Te Puia, Rotorua, this Mothers' Day. Offering a beautiful, sumptuous buffet-style menu with views of the world-famous Pohuti Geyser as you dine. Following your meal, enjoy an afternoon of live music & a cold beverage on the balcony.
$70.00pp. (Transport & brunch buffet; add a glass of Brut Cuvee for $7.00.) For details, please refer to:
https://www.smore.com/x9pb3-mothers-day-may-9
JUNE 13 ALPHA ST KITCHEN & BAR, CAMBRIDGE
This restaurant, which we have visited several times, is located in the historic National Hotel in the heart of Cambridge, adjacent to the Town Hall & overlooking the Tower Clock. The original hotel, the Alpha Hotel, built in 1886, was destroyed by fire in 1912. the current version of the National Hotel ("The Nash" to locals) was originally built in 1913 &, with a few modifications over the decades has retained its elegant art-deco style.The quiet elegance & generus dimensions of the building enhance the contemporary, relaxed style of the restaurant
Alpha Street Kitchen & Bar carries on the tradition of a welcoming place to meet at any time of the day.
Hen's Parties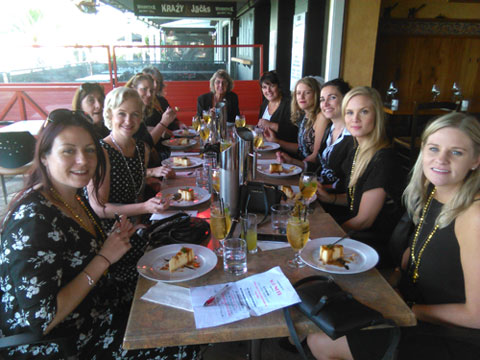 If you're thinking of having a Hens'Party, prior to your wedding contact us to plan a day of fun!
Winery Tours Tailored to Your Requests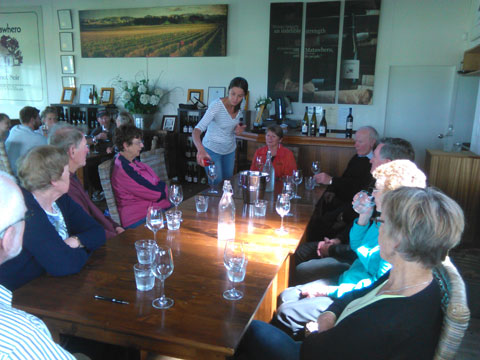 Travel to the Hawke's Bay for a weekend of wine appreciation. Taste the delights of Kumeu or Matakana. You choose the destination we'll suggest the venues for your consideration to ensure you have a great time!
GIFT VOUCHERS ARE AVAILABLE FOR ALL OF OUR TOURS
Give a gift voucher for a birthday or anniversary, a "thank you' to that special person.
Mid-Week Tours & Garden-Related Tours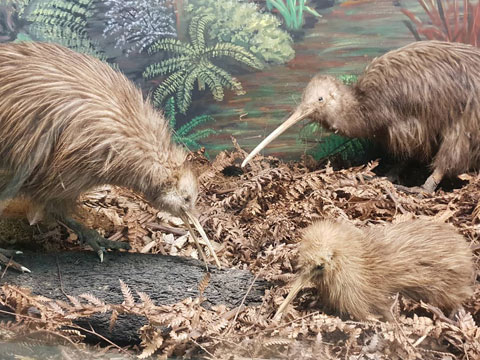 We travel monthly to areas our clients have requested or that we have chosen
Upcoming General Tours:
APRIL 23-24 SCULPTUREUM, A CHOCOLATERIE & MORE!
Another trip to see the exceptional Sculptureum in Matakana. Plus more delights - Matakana's famous Farmers' Market, The Brick Bay Sculpture Trail, an Ascension Winery lunch, a tasting at Chocolate Vrown Chocolaterie & a visit to the tresured Of Hand & Heart contemporary pottery & ceramic art gallery.
COST:$610.pp.: ($520.00pp. twin share).
Details at https://www.smore.com/ducmgb-sculptureum-a-chocolaterie-more
14-15 MAY - WE'RE REDOING OUR COROMANDEL TOUR!
we enjoyed our recent trip to the Coromandel Peninsula so much we're redoing it. Cathedral Cove Macadamias, lunch at Mercury Bay Estate, Driving Creek Railway, The Waterworks Matatoki Cheese, plus!
This is an all-inclusive trip - transport, accommodation, entry fees, tastings, meals morning teas.
Cost: $840.00pp.' $755.00pp. Twin share.
Details at:
https://smore.com/6qmzb-come-with-us-to-the-coromandel
1 7 SEPT: WONDERFUL WHITFORD GARDENS
We'll make an early start from Tauranga, stopping at Ngatea for morning tea, before travelling on to Huntingwood Gardens. Lunch will be enjoyed at John Hill Estate Vineyard before we move to our next venue, Ayrlies Gardens. We'll then wend our way home.
For details, please refer to https://www.smore.com/qvzpab-wonderful-whitford-gardens
GIBBS FARM & MATAKANA TOUR SEPTEMBER (DATE TBC)
This will be our second time doing this tour. The 2-day tour will visit the gannet colony at Muriwai, before travelling to Gibbs farm, Makarau, an open-air sculpture park 47km North of Auckland. This venue has the largest collection of large-scale outdoor sculptures in NZ. We have permission to drive around the farm. On our second day you will have time at The Matakana Farmers'Market, before travelling on to Morris & James, which produces a wide range of beautiful hand-made pottery. We will then move on to the Sculptureum to view its 3 sculpture gardens & 6 galleries, beore indulging ourselves at Chocolate Brown Chocolaterie, Warkworth.
SUNDAY 26 SEPTEMBER PIRONGIA CRAFT DAY
Pirongia Craft Day is held, in Pirongia's main street, Franklin Street, annually. It has been happening for over 40 years & is one of the biggest markets in NZ. Last year's fair was cancelled, because of Covid, so they're bursting to the gunnels with new ideas & attractions for this year!
COST: $40.00pp. (Door-to-door transport)
29 OCTOBER -1 NOVEMBER POWERCO & FRINGE GARDEN FESTIVALS +
We will be visiting a variety of gardens over our 4-day visit, as well as places of interest, such as the acclaimed Len Lye Gallery & the wonderful Tawhiti Museum (Hawera). A full lst of gardens to be visted will be given when details become available from organisers.
A minimum of 8 people are needed for this tour to proceed. Please contact us with expressions of interest (at no obligation).
4 NOVEMBER TOYOTA THAMES & MATATOKI CHEESE
The Toyota Plant dates back to 1964, when it was Campbell Motors. Toyota Thames was the last plant in NZ to stop local assembly & the only one to re-hire many of its staff in a new enterprise, renewing new & imported vehicles back to top condition, to be sold under Toyota's Signature used-car program.
Our tour will start with a coffee & biscuit & a talk on the history of Toyota. We'll move to the plant floor for a tour.
You will then be given an hour in the CBD, before we visit Matatoki Cheese for a tasting, en route for home.
COST: $60.00pp.(Transport, Toyota factory, Matatoki cheese-tasting.)
back to top